Connor Zilisch Returns After Head-Turning ARCA Debut at Iconic Circuit; 14-Year-Old Ben Maier Poised for Breakthrough Run in TA2 Rookie Season
HIGH POINT, N.C. (Sept. 7, 2023) – Before there was racing at Watkins Glen (N.Y.) International, where the Big Machine Vodka Spiked Coolers TA2 Series will contest the 10th round of its 2023 season Sunday, there was the popular Watkins Glen Grand Prix that was contested from 1948 to 1952 on a challenging asphalt, concrete and dirt-road circuit in and around the nearby Village of Watkins Glen at the southern tip of Seneca Lake.
As Silver Hare Racing and its young driver duo of Connor Zilisch and Ben Maier head to the iconic 3.4-mile, 11-turn true road course at Watkins Glen International this weekend in search of the team's fourth victory of the season, the thought of racing instead on a temporary circuit like that of the old Watkins Glen Grand Prix would not be unwarranted.
The team arrives in New York's Finger Lakes Region having scored highly improbable and dramatic victories in the last two events contested on temporary street circuits – round six on June 4 in downtown Detroit, and in the series' most recent round Aug. 5 in downtown Nashville, Tennessee. It was the 17-year-old Zilisch who blazed his way to victory lane from the back of the starting grid in his No. 7 Silver Hare Racing Chevrolet Camaro at both events, giving him three victories on the season, the first of which came at Michelin Raceway Road Atlanta in March.
While this year's two street-course races are where Zilisch and the Silver Hare Racing camp have made their most recent splashes so far this season, there is plenty of cause for optimism heading to Watkins Glen International this weekend.
Since his resounding victory in Nashville, the native of Mooresville, North Carolina, made his much-anticipated ARCA Menards Series debut Aug. 18 at Watkins Glen in the No. 28 Pinnacle Racing Chevrolet. He qualified second and took complete control of the 42-lap race around the facility's 2.45-mile, seven-turn NASCAR short course on lap eight, masterfully holding off the field for 34 laps despite breaking a sway bar shortly after assuming the lead. It was only a daring pass in the last corner of the race by eight-time series winner Jesse Love that relegated Zilisch to a disappointing but still satisfying runner-up finish by a mere .195 of a second.
Buoyed by the lessons learned that weekend about how to better navigate the Watkins Glen circuit, and a late-race rally from the back of the pack in his Silver Hare Racing Camaro in last year's TA2 Series race at the New York track, Zilisch has been laser focused on this weekend's return engagement. A year ago this weekend, he qualified fourth, clocked the fastest lap of the race, and was making a late pass for second place when contact led to a cut tire that sent him to pit lane. He rallied from 31st for an 11th-place finish in the closing laps.
Meanwhile Maier, the 14-year-old TA2 rookie driving the No. 75 Silver Hare Racing/Gel Blaster Chevrolet Camaro, looks to continue the steady and methodical progress he's made since his TA2 debut in February's season opener at Sebring (Fla.) International Raceway. His ninth-place finish four weekends ago at Nashville was his third top-10, matching his season-best finishes of ninth June 3 at Detroit and March 11 at NOLA Motorsports Park in Avondale, Louisiana. The young driver from Chester, Maryland, made a splash of his own the third weekend of August during a National Auto Sport Association weekend doubleheader at New Jersey Motorsports Park in Millville. He was victorious in the Spec Miata class on Aug. 19 and followed it up with a third-place finish in the Aug. 20 race. Sunday's race at Watkins Glen will be his first at the track, but he looks to make short work of learning its many intricacies, as he's done at each stop on the tour this year.
A pair of TA2 test sessions kick off the weekend's on-track action Friday, with official TA2 practice set for 10:05 a.m. EDT Saturday, followed by qualifying at 5:25 p.m. Race time for Sunday's 30-lap, 75-minute race is 11:05 a.m. with live television coverage by MAVTV, and live streaming video on the Trans Am and SpeedTour channels on YouTube. MAVTV will air a 60-minute race show at 8 p.m. EDT on Thursday, Sept. 14.
Silver Hare Racing leverages its Trans Am effort to promote its arrive-and-drive program, where aspiring racers and even tenured professionals hone their road-racing skills on some of the most revered tracks in North America. NASCAR Cup Series drivers Daniel Suárez, Christopher Bell, William Byron and Harrison Burton have all wheeled Silver Hare Racing-prepared cars to burnish their road-racing abilities in top-flight equipment.
The team offers six, professionally built and maintained TA2 chassis from Howe Racing for both competition and private testing. Silver Hare Racing has a dedicated, fulltime crew and operates out of a state-of-the-art facility in High Point, North Carolina. At the track, two 53-foot Featherlite transporters serve as the team's base, each outfitted with a lounge and smart TVs for data and video review, as well as for hospitality.
To further Silver Hare Racing's driver development capabilities, the team's race shop in High Point is now equipped with a SHOCKWAVE Simulator, a tool specifically developed for drivers to accelerate racetrack familiarity, improve car control and confidence, and build stamina. SHOCKWAVE has been involved in racing since 1965 and is currently actively participating in NASCAR, ARCA, Trans Am, Late Models, and Sprint cars. Its Trans Am package replicates a Howe Racing TA2 chassis, complete with cockpit controls and sounds.
"With NASCAR having so many more road-course races, it's our goal for Silver Hare Racing to be the preferred team for drivers to get that road-course experience," said Laura Hull, Silver Hare Racing co-owner and team manager. "We want to be that important step in the ladder for the young, up-and-coming drivers like Connor and Ben. We want people to know we have an arrive-and-drive program, where for people who want to run this track or another, we provide the opportunity to do that and be successful."
Connor Zilisch, driver, No. 7 Silver Hare Racing Chevrolet Camaro: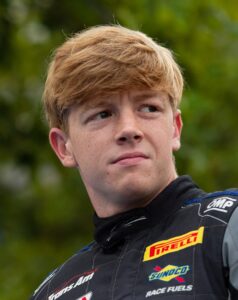 "I feel confident at The Glen, especially after how my ARCA debut went there. I was super fast there and I feel like I kind of came in with a different approach than I usually would and it worked really well for me. Kind of carrying that same mindset into the Trans Am weekend with the things that I've learned about that track the past few months when I was preparing for that ARCA race and getting myself ready for that. I really enjoyed the challenge of learning something new and figuring out a new combination for me. I was super-prepared and knew everything I needed to do going in. I wish I could've won. You hate to lead that many laps of a race and lose it in the last corner. But I learned so much in that race that will help me in the future and opened up people's eyes to what kind of skill I might have. For now, it'll help me with all my TA2 stuff moving forward.
"Watkins Glen is a track I feel really prepared at. Obviously, we have to run the full track in the Trans Am race, but a lot of the time is made in the bus stop and turn one, so those were the key corners I really focused on in the ARCA car. I'm really looking forward to Watkins Glen and getting there again. It's one of my favorite tracks. It's high-grip, the esses are a lot of fun – it's flat out in a TA2 car, so you're carrying a lot of speed up through there and the bus stop, super high-commitment just sending it off in there and using all those curbs. A lot of tricky sections, but it's still super high-speed, keeping your momentum up with not a lot of slow corners. I really enjoy tracks like that, and Watkins Glen is one of my favorites, for sure, in the country.
"The ARCA and TA2 cars are definitely different, but you drive the track the same and you value the same kinds of things from car to car. Whether it's an MX5 Cup car or a TA2 car or an ARCA car, you have the same approach. Corner speeds and brake points and that stuff changes, but the general idea of the racetrack stays the same. I feel like from what I've learned, it'll really help me going back to Watkins Glen this weekend.
"We were running really well last year in the Trans Am race. I had the fastest lap of the race and felt really confident about the car we had. Unfortunately, when I was passing for second, there was contact and it cut my tire down. So I had to pit and then restarted 31st, but in six or seven laps I made it up to 11th, where I finished. We had a lot of speed and I was really happy with the car we had there last year. If we can build on that and improve and fine-tune on that, I think we'll be really good. With how much speed we've had in the last few races in the TA2 Series, I feel if we can show up with the baseline we had last year and just improve on that, we'll be really good."
Ben Maier, driver, No. 75 Silver Hare Racing/Gel Blaster Chevrolet Camaro: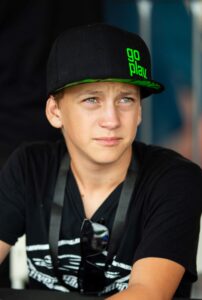 "I'm pretty excited for Watkins Glen. I've been doing the sim and working out, preparing for it. It seems like a fun track. It's cool to be able to race there, a great opportunity because I'm so young and get to race against the big dogs who've been racing there for a long time.
"The bus stop is definitely different than other tracks I've been on because it's so high-speed. It's pretty sketchy, but it's a very cool section of the track. The last turn is a lot like Mid-Ohio's first turn, and it's a turn like no other track has.
"Connor was doing great in the ARCA race. Driving with a broken track bar wasn't helpful, but he did great the whole race. I couldn't believe how he could stay in front and pull away from everybody even without the track bar. We've talked about how to get around Watkins Glen and he said to not treat it too differently than any other track. I just need to get out there and get used to it as quickly as I can, like I've been doing all season, so far."
-Silver Hare Racing-