14-Year-Old Rookie Ben Maier Drives from 41st to 23rd in Trans Am TA2 Debut
Overview
Date: Feb. 25, 2023
Event: Sebring SpeedTour (Round 1 of 12)
Series: Trans Am Series presented by Pirelli
Division: Big Machine Vodka Spiked Coolers TA2 Series
Location: Sebring (Fla.) International Raceway
Layout: 3.74-mile, 17-turn road course
Format: 27 laps or 75 minutes
Weather: Sunny, mid-80s
Race Winner: Rafa Matos of Peterson Racing
Silver Hare Racing:
Connor Zilisch – Started 10th, Finished 7th (Running, completed 27/27 laps)
Ben Maier – Started 41st, Finished 23rd (Running, completed 27/27 laps)
Connor Zilisch, Driver, No. 7 Waukegan Farms/Silver Hare Racing Chevrolet Camaro:
"It was a pretty good day. We kind of struggled to get this new car going to start the weekend, not having had the chance to go test before this race like a lot of teams did, so we were coming in kind of on the back foot. We did the most we could, struggled with a few things during the two test sessions, and when the first official practice came around, we had those sorted out and got ourselves up to seventh. We felt decent about where we were at, not great, then made some minor adjustments before qualifying and unfortunately they didn't go our way. So we started the race 10th and my mindset was to just have a good, clean race and I managed to do that, got ourselves up to seventh before a late-race caution and rode to the end from there. Proud of the team and all the effort they put in. We had a lot of little issues going on and stuff that was out of our control. But they all worked their tails off to get me back out there and get me fast, and we definitely achieved that in the race. I felt a lot better about our speed. I'm excited about NOLA in just two short weeks, and hopefully we'll have a better piece going into there and can come out with a podium."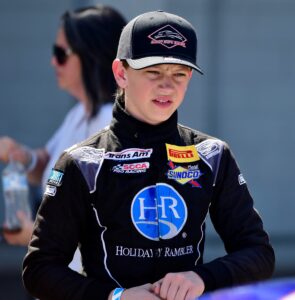 Ben Maier, Driver, No. 75 Gel Blaster/Silver Hare Racing Chevrolet Camaro:
"I was just sitting back trying to not wreck because that would've been bad (laughs). I passed a couple of people in the beginning, just waiting for the right time. I was keeping pretty good pace. Looking forward to working on getting me more and more comfortable in the car – this was only my third day ever in the car – and hopefully do some testing to get more up to speed before the next race so we can make it further up toward the front. The Silver Hare team is an amazing group of people. I'm excited to continue the season with them. They set up my car nice. Everything was good. They fixed the things that needed to get fixed as the weekend went along and in quick time. I was happy with the way the weekend turned out and I'm looking forward to the next one."
Maurice Hull, Co-Owner, Silver Hare Racing:
"It was spectacular and I'm just immensely pleased, couldn't be happier for both our drivers. They both drove great races. It's hard to pass on this track, it's hard to pass when you've got single-file restarts, it's just a tough, tough track and they both excelled. Not a mark on Ben's car. Had a little problem where Connor got run off the track in turn one. But other than that, there were no marks on either car, they were flawless, so I'm extremely proud of them. Laura (Hull, wife and co-owners) and I have been really, really fortunate to have surrounded ourselves with some of the best guys in racing, in our opinion, when it comes to our incredible people in the race shop and at the track. They have been stellar in not only assembling the cars, but finding problems when they come up, which in racing there's always something that needs diagnosing and solving. And they're extremely pleasant the whole time. They're great human beings and I couldn't be happier to be associated with them."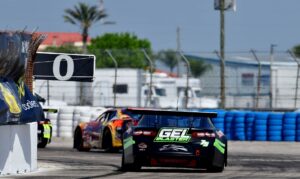 Next Up
Round two of the Trans Am Series presented by Pirelli takes the Big Machine Vodka Spiked Coolers TA2 Series competitors to NOLA Motorsports Park in Avondale, Louisiana, for the New Orleans SpeedTour. The event begins with two open test sessions on Thursday, March 9. Practice on the 2.75-mile, 16-turn road course is set for Friday morning, March 10, followed by qualifying that afternoon. The 27-lap, 75-minute race will run Saturday, March 11, at 1:25 p.m. EST. Coverage will be live streamed via the Trans Am Series and SpeedTourTV channels on YouTube.
-SilverHareRacing-