Early TA2 Championship Contender Connor Zilisch, 14-Year-Old Rookie Ben Maier Eager To Hit the Motor City's Downtown Streets for Saturday-Sunday Twinbill
HIGH POINT, N.C. (June 1, 2023) – There's a lot of racing left for the competitors of the 2023 Big Machine Vodka Spiked Coolers TA2 Series, but early indications show Silver Hare Racing's Connor Zilisch to be a solid contender for the championship in just the second fulltime TA2 season for the 16-year-old from Mooresville, North Carolina.
His fourth-place finish in last Saturday's Memorial Day Classic at Lime Rock Park in Lakeville, Connecticut, was his third top-four in three races and his fourth top-10 in four events this season, and he finds himself third in the driver standings, just nine points behind current leader Thomas Merrill and six behind second-place Brent Crews.
As racing returns to the downtown streets of the Motor City for the first time in 32 years this weekend, Zilisch, driver of the No. 7 Silver Hare Racing Chevrolet Camaro, will have not one but two chances to improve his position in the championship as he and his Silver Hare teammate, 14-year-old Ben Maier from Chester, Maryland, compete in the Saturday-Sunday TA2 doubleheader on the 1.7-mile, nine-turn temporary circuit that plays host to this year's IndyCar Detroit Grand Prix.
After opening the season with an eighth-place finish Feb. 26 at Sebring (Fla.) International Raceway, Zilisch has reeled off three consecutive top-five finishes, highlighted by his first career TA2 victory March 26 at Michelin Raceway Road Atlanta that came by way of a dramatic, late-race pass of Merrill, then holding off the veteran during a sudden deluge that soaked the track in the final laps. That breakthrough win for Zilisch was sandwiched by a pair of fourth-place finishes March 11 at NOLA Motorsports Park in Avondale, Louisiana, and Saturday at Lime Rock.
Meanwhile Maier, driver of the No. 75 Gel Blaster Chevrolet Camaro for Silver Hare Racing, has shown great poise and determination through his first four career TA2 races, bringing home finishes of 21st at Sebring, ninth at NOLA, 20th at Road Atlanta and 16th at Lime Rock. He arrives at Detroit 14th in the driver standings and fifth in the rookie championship. While Detroit marks his TA2 debut on a downtown street circuit, he's no stranger to the tight confines and concrete barriers such layouts present to competitors. Last August, Maier drove to a third-place finish in the Stadium Super Trucks Series event that was part of Music City Grand Prix weekend on the downtown streets of Nashville, Tennessee. It was his best finish while running a limited schedule in the series, which often serves as undercard during IndyCar event weekends, like the TA2 Series also does at Nashville.
This weekend marks the first time since 1991 that the downtown streets of Detroit have hosted the city's annual grand prix. The Formula One United States Grand Prix was contested on those very streets from 1982 to 1988, followed by a three-year run by the IndyCar Series from 1989 to 1991 before moving a few miles east on Jefferson Avenue to The Streets of Belle Isle temporary circuit from 1992 to 2001, and again from 2007 through 2022. The Trans Am Series presented by Pirelli has been a traditional part of Detroit Grand Prix weekend over the years, running on the downtown circuit from 1984 to 1991, then on the Belle Isle circuit from 1992 to 2001, and from 2016 to 2019.
A pair of Friday practice sessions kicks off the weekend for the TA2 competitors. Saturday begins with qualifying at 8:15 a.m. EDT, followed by the 60-minute race No. 1 at 10:35 a.m. The starting grid for Sunday's 75-minute race No. 2 will be set by the fastest lap times recorded by each TA2 competitor in Saturday's race. Race time Sunday is 11 a.m.
As are all Big Machine Vodka Spiked Coolers TA2 Series events this season, both races will be live streamed via the Trans Am and SpeedTour channels on YouTube. The series' new television partner MAVTV will air a 60-minute version of the race weekend at 8 p.m. EDT on Thursday, June 8.
Silver Hare Racing leverages its Trans Am effort to promote its arrive-and-drive program, where aspiring racers and even tenured professionals hone their road-racing skills on some of the most revered tracks in North America. NASCAR Cup Series drivers Daniel Suárez, Christopher Bell, William Byron and Harrison Burton have all wheeled Silver Hare Racing-prepared cars to burnish their road-racing abilities in top-flight equipment.
The team offers six, professionally built and maintained TA2 chassis from Howe Racing for both competition and private testing. Silver Hare Racing has a dedicated, fulltime crew and operates out of a state-of-the-art facility in High Point, North Carolina. At the track, two 53-foot Featherlite transporters serve as the team's base, each outfitted with a lounge and smart TVs for data and video review, as well as for hospitality.
To further Silver Hare Racing's driver development capabilities, the team's race shop in High Point is now equipped with a SHOCKWAVE Simulator, a tool specifically developed for drivers to accelerate racetrack familiarity, improve car control and confidence, and build stamina. SHOCKWAVE has been involved in racing since 1965 and is currently actively participating in NASCAR, ARCA, Trans Am, Late Models, and Sprint cars. Its Trans Am package replicates a Howe Racing TA2 chassis, complete with cockpit controls and sounds.
"With NASCAR having so many more road-course races, it's our goal for Silver Hare Racing to be the preferred team for drivers to get that road-course experience," said Laura Hull, Silver Hare Racing co-owner and team manager. "We want to be that important step in the ladder for the young, up-and-coming drivers like Connor and Ben. We want people to know we have an arrive-and-drive program, where for people who want to run this track or another, we provide the opportunity to do that and be successful."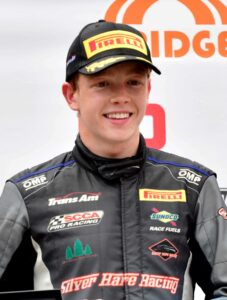 Connor Zilisch, driver, No. 7 Silver Hare Racing Chevrolet Camaro:
"It's going to be really cool joining IndyCar in Detroit this week. The track doesn't look all that complicated, but obviously street circuits bring a lot of anticipation and they're always a ton of fun. The last street race I did was St. Pete and I won, so I'm coming off that win and I'm just excited to get to Detroit and see what the track looks like. Obviously, none of us really knows what it looks like until we get there, so we're going in a little bit blind.
"It's a close championship among the top four (in the driver standings). We're third, less than 10 points back from the lead, so nothing far-fetched, for sure. We're going to have to be on our A-game from here on out to compete for the championship and just continuing to execute and get good finishes, even on the bad days where we might not be able to win, still making the most of our days is what's important. And me doing my job, not doing anything dumb, or taking myself out of contention for something not so important. That's the mindset coming in, just finish well and get through both races. Don't do anything to hurt your chances in the second race by doing something wrong and taking yourself out of the first race and not being able to bring your car to the second race.
"It's going to be hot, it's going to be long, it's going to be a tough weekend physically for all the drivers. Just need to get through it clean and moving on to the next race without damaging the car is going to be important to me and the team, especially, considering how hard they've worked on these cars we're going to race. That's the goal going in, so we'll see what happens.
"There's no simulator that's accurate enough to be worth doing, so I'm going in blind as I'm sure a lot of other drivers are in our series. All I have is the track map to look at and that doesn't do much for you, so I'm going to walk the track when it becomes available Thursday and see what it's all about, and that's really all we get. Something I've been pretty good at is adapting to new tracks. Obviously I've been to a lot of different places, so adapting to tracks isn't the toughest thing for me, but it's still going to be a challenge. Street tracks aren't easy, and when you put a TA2 car on them, it makes it even tougher. They're pretty big compared to the Indy car or the MX-5 Cup car and pretty tough to drive. It'll be a challenge for the drivers, for sure, and it'll be a test with over two hours of racing this weekend."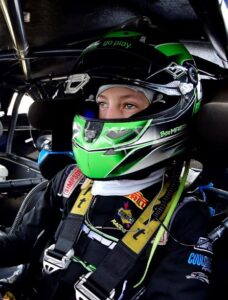 Ben Maier, driver, No. 75 Silver Hare Racing/Gel Blaster Chevrolet Camaro:
"It'll be my second street race ever. I did one with Stadium Super Trucks last year at Nashville, and it'll be my first in the TA2 car, so I'm excited. It's a different experience because it can get a little intimidating with the concrete walls and there's no room for mistakes or spinning out. It's more exciting, it's more compact, but there's not as much passing, which is one of the more fun parts about racing. It should be an exciting weekend. It's also really a cool experience racing throughout the city.
"At Nashville last year, the Stadium Super Trucks seemed to be a little more able to take a beating than the TA2 car. It was really fun for me, one of the most fun cars I've ever driven. So it was more of a fun thing than an intimidating thing. Being on a street track wasn't something that made me want to go slower, it just made me not want to make any mistakes. They have a lot of suspension and big tires, more like street tires. The TA2 car will feel a lot bumpier than the Stadium Super Truck. It's going to be a new experience for me and I'm going to have to catch on quickly.
"I've been watching videos of other street races like Nashville. They have different turns, a lot of 90-degree turns like Detroit. I've found tracks on iRacing that are street courses. They don't simulate what it's going to be like with the marbles that build up off the racing line, but I get a feel for what the 90-degree corners are like with the walls.
"It's always fun to race with IndyCar like we did at Nashville last year. I think it's really cool to race alongside of them because it's one of the top levels of racing. I like to watch them in person because they're cool.
"Connor has been doing really well this season. He got his win at Atlanta, and I've been progressing every race as I'm getting more and more laps. Hopefully I can gain a few more positions this weekend and, by the end of the season, I want to be toward the front."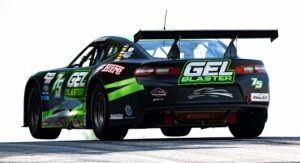 -Silver Hare Racing-