17-Year-Old Eyes Season's Fifth TA2 Win at Team's Home Track, Set for TA-Class Debut in No. 7 Franklin Road/Silver Hare Racing Chevy
HIGH POINT, N.C. (Oct. 3, 2023) – It's back to where it all started this weekend for Silver Hare Racing's Connor Zilisch in the Trans Am Series presented by Pirelli.
The 17-year-old driver of the No. 7 Silver Hare Racing/Carter Bank Chevrolet Camaro from Mooresville, North Carolina, returns to scenic Virginia International Raceway (VIR) in Alton for Sunday's penultimate round of the 2023 Big Machine Vodka Spiked Coolers TA2 Series on a roll, coming off a dominating, pole-to-checkered-flag victory two weekends ago at World Wide Technology Raceway, just across the Mississippi River from downtown St. Louis.
This weekend, he'll be vying for his fifth victory of the year and fourth in his last seven outings at the 3.27-mile, 17-turn circuit where, as a 15-year-old in September 2021, he punctuated his TA2 debut by qualifying on the pole in track-record time and became the youngest polewinner in series history. He went on to lead the opening four laps on race day, becoming the youngest in series history to achieve that feat, as well, before a fuel injector failure abruptly ended his bid.
While Sunday's 30-lap, 75-minute race will mark Zilisch's 25th career TA2 race and third at VIR, the home track for High Point, North Carolina-based Silver Hare Racing this weekend will also be the site of his first career appearance in Trans Am's top-tier TA class for 850-horsepower American muscle cars. Zilisch will pilot the No. 7 Franklin Road Apparel/Silver Hare Racing Chevrolet Camaro for Nashville-area-based Showtime Motorsports in Saturday's 30-lap, 75-minute TA-class main event. It's the result of a cooperative effort involving manufacturer General Motors, Showtime Motorsports and Silver Hare Racing and puts Zilisch in the role of teammate to Showtime's Justin Marks, the veteran driver and owner of NASCAR's Trackhouse Racing organization, and Keith Grant of Germantown, Tennessee.
Zilisch arrives at VIR fourth in the TA2 standings behind his March 26 victory at Michelin Raceway Road Atlanta, his pair of downtown street-course wins June 4 in Detroit and Aug. 6 in Nashville, and his triumph two weekends ago on the outskirts of St. Louis. He also turned in a dominating performance two rounds ago at Watkins Glen (N.Y.) International, where he qualified on the pole for the Sept. 10 race and was first across the finish line by a 2.664-second margin. But the result was nullified after postrace inspection due to an engine-height infraction, the same infraction that cost the race's third-place finisher its podium spot, as well.
Nonetheless, confidence abounds in the Silver Hare camp at its home track – just 4 miles as the crow flies from the Waukegan Farms property in Semora, North Carolina, owned by team owners Maurice and Laura Hull – and with the return of longtime partner Carter Bank & Trust, based in nearby Martinsville, Virginia, on Zilisch's No. 7 Camaro for Sunday's race.
Meanwhile, anticipation also abounds for Zilisch's TA-class debut on Saturday. Two of his biggest fans outside the Silver Hare camp are Showtime Motorsports team owner Ken Thwaits and his part-time driver Marks.
"Like a lot of other people, we've watched Connor's progress since he shocked the world at VIR that first time and put the car on the pole and literally came out of nowhere to do it," Thwaits said. "I talked to (executive director) Eric Warren at GM Motorsports about getting him into one of our TA cars but the timing never seemed to be right – until now. We're really excited to get him in the car. He tested really quick. Now the goal is to get him to the finish line. Let's go win the race, if possible. I thank Maurice and Laura for agreeing to loan him to us. They have a hell of a driver, so let's go out on a winning note. Maybe get a clean sweep. Wouldn't that be something?"
"Connor is consistently proving that he's a very special talent in American racing," said Marks, who has won three of the six TA-class races he's driven this year in Showtime's No. 99 Trackhouse Chevrolet Camaro, including his last two outings from the pole at Road America in Elkhart Lake, Wisconsin, and Watkins Glen. "These young guys need a wide range of experience these days and I'm excited to help him and watch him do his thing in an 850-horsepower monster like these TA cars. I suspect he'll be the one to beat when we get to VIR."
Both Saturday's 11:45 a.m. EDT TA-class race and Sunday's 1:25 p.m. TA2 race will be televised live on MAVTV, augmented by live streaming video on the Trans Am and SpeedTour channels on YouTube.
Silver Hare Racing leverages its Trans Am effort to promote its arrive-and-drive program, where aspiring racers and even tenured professionals hone their road-racing skills on some of the most revered tracks in North America. NASCAR Cup Series drivers Daniel Suárez, Christopher Bell, William Byron and Harrison Burton have all wheeled Silver Hare Racing-prepared cars to burnish their road-racing abilities in top-flight equipment.
The team offers six, professionally built and maintained TA2 chassis from Howe Racing for both competition and private testing. Silver Hare Racing has a dedicated, fulltime crew and operates out of a state-of-the-art facility in High Point, North Carolina. At the track, two 53-foot Featherlite transporters serve as the team's base, each outfitted with a lounge and smart TVs for data and video review, as well as for hospitality.
To further Silver Hare Racing's driver development capabilities, the team's race shop in High Point is now equipped with a SHOCKWAVE Simulator, a tool specifically developed for drivers to accelerate racetrack familiarity, improve car control and confidence, and build stamina. SHOCKWAVE has been involved in racing since 1965 and is currently actively participating in NASCAR, ARCA, Trans Am, Late Models, and Sprint cars. Its Trans Am package replicates a Howe Racing TA2 chassis, complete with cockpit controls and sounds.
"With NASCAR having so many more road-course races, it's our goal for Silver Hare Racing to be the preferred team for drivers to get that road-course experience," said Laura Hull, Silver Hare Racing co-owner and team manager. "We want to be that important step in the ladder for the young, up-and-coming drivers like Connor and Ben. We want people to know we have an arrive-and-drive program, where for people who want to run this track or another, we provide the opportunity to do that and be successful."
Connor Zilisch, driver, No. 7 Silver Hare Racing/Carter Bank Chevrolet Camaro: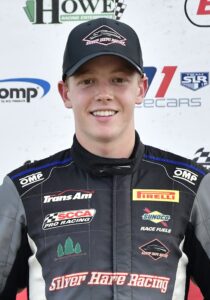 "I'm looking forward to the weekend at VIR. Obviously, it's a home race for the Silver Hare team, which is based close to there in High Point. And Maurice and Laura have their farm just down the road and they've got friends and family coming to the race. So it'll be important for us to do well at this one and kind of show what we've done the last few months on the TA2 scene. We've been successful, being the fastest car at the last three races we've been to, especially being dominant and coming off a grand slam at St. Louis – pole, led all the laps, fastest lap and won the race, pretty much everything we could've achieved. Hopefully we can carry that momentum into VIR this weekend and be that competitive.
"VIR is one of my favorite tracks. I've got a lot of experience there and the team has tested there a bunch, so we've got really good knowledge and a really good setup at VIR. It'll be a matter of implementing what we've learned the last few months, and applying that to what we've had in the past there I think will make us pretty quick. With my experience there and the team's experience there, I feel like this is one of the places we should do really well at. I made a mistake that took us out of the event last year, so I just have to maximize what I can do and not make mistakes like that to keep us in the race and I think we'll be good.
"Doing double duty this weekend can only help me as far as track time. I'll be more up to speed on how the track is changing, and more laps are certainly not going to hurt me. It's going to be a really good experience for me, and it'll keep me busy, for sure. Sometimes the Trans Am weekends are kind of slow, you're only on track once or twice a day. That won't be the case for me this weekend. Obviously, I still have to do my best in both and give 100 percent to both teams and making sure I'm doing everything I can do to keep both teams happy. It'll be a lot on me, but I'm looking forward to the challenge.
"We tested the TA car at VIR a couple of weeks ago and it went really well. I got up to speed quickly. I only got to do three sessions in the car, so not a ton, but enough to get a good understanding of the car and get to work with that team for the first time and kind of build that relationship. Really successful, and I feel like we've got a good starting spot going into the race weekend. The car was really fast and I felt comfortable, so now I just have to go out and execute for that race, as well."
-Silver Hare Racing-