Fourth-Place Connor Zilisch Just Misses Second Career TA2 Podium; Rookie Ben Maier Scores First Top-10 in Just His Second Race
Overview
Date: March 11, 2023
Event: New Orleans SpeedTour (Round 2 of 12)
Series: Trans Am Series presented by Pirelli
Division: Big Machine Vodka Spiked Coolers TA2 Series
Location: NOLA Motorsports Park in Avondale, Louisiana
Layout: 2.75-mile, 16-turn road course
Format: 37 laps or 75 minutes
Weather: Partly cloudy, high-70s
Race Winner: Brent Crews of Nitro Motorsports
Silver Hare Racing:
Connor Zilisch – Started 11th, Finished 4th (Running, completed 37/37 laps)
Ben Maier – Started 18th, Finished 9th (Running, completed 37/37 laps)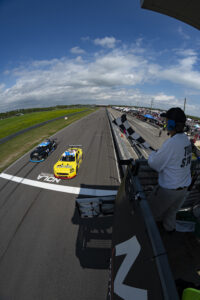 Connor Zilisch, Driver, No. 7 Silver Hare Racing Chevrolet Camaro:
"It was a really good day for the entire Silver Hare team. We struggled throughout the early parts of the weekend but nobody gave up and we knew we had the potential to be fast. In the race, I think we got some of that potential out of the car that we knew we had. We threw the kitchen sink at it before the race, just trying to get the most out of it that we could, and the guys worked their tails off to get us a good, fast car. That really paid off for me and Ben (Maier). I think I actually started 13th because the polesitter didn't make it off the grid in time, and people got lost and I think I got put back a row on the inside. So 13th and ending up in fourth place, it's hard to be disappointed with that, although I was right there with the podium finishers at the line. Maybe a little bitter about that, but we've got 10 more races this year and 10 more opportunities to get ourselves up on the top step of the podium. I'm just super proud of the guys and the progress that we made this weekend. They worked so hard to get me up to the front and our hard work is paying off. And even though we missed testing at the beginning of the year, we're making up for it with hard work and dedication. I'm just proud of all these guys and proud of Ben for getting another Silver Hare car up in the top-10, and I just can't wait for Road Atlanta in two weeks."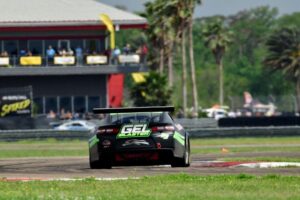 Ben Maier, Driver, No. 75 Gel Blaster/Silver Hare Racing Chevrolet Camaro:
"Connor and I had sort of the same setup. We were pretty good at the beginning of the race, and during the middle part, it got really gripped up so we were really fast during that part. Then, at the very end, we just lost drive and we were slipping all over the place. Made it from 18th to 10th, so I'm happy with that, my first top-10. I've only had six sessions ever in a TA2 car, a Silver Hare car, and two of those were races. I'm really excited for more races, going to tracks that are new to me, to learn new tracks in these cars, the elevation changes at all the tracks we go to, the bridge at Nashville, all things that look like they're really fun. Hopefully we can keep progressing toward the front. It seems like we're definitely improving each time we get in the car and that makes me feel good about what we can accomplish this year."
Next Up
Round three of the Trans Am Series presented by Pirelli takes the Big Machine Vodka Spiked Coolers TA2 Series competitors to Michelin Raceway Road Atlanta March 24-26 for the Mission Foods Atlanta SpeedTour. The event begins with two open test sessions on Friday, March 24. Practice on the 2.54-mile, 12-turn road course is set for Saturday morning, March 25, followed by qualifying that afternoon. The 40-lap, 75-minute race will run Sunday, March 26, at 12:15 p.m. EDT. Coverage will be live streamed via the Trans Am Series and SpeedTourTV channels on YouTube, with a delayed broadcast on MAVTV set for 8 p.m. EDT on Thursday, March 30.
About Silver Hare Racing
Silver Hare Racing is a fulltime competitor in the Trans Am Series presented by Pirelli's newly renamed Big Machine Vodka Spiked Coolers TA2 Series. The multicar team has won the TA2 Masters class championship three times (2018, 2019 and 2020) with driver and team co-owner Maurice Hull. Under the leadership of Hull's wife, co-owner and team manager Laura Hull, Silver Hare Racing provides a variety of services that includes private testing and arrive-and-drive programs. The team offers six professionally built and maintained TA2 chassis from Howe Racing and operates from a state-of-the-art facility in High Point, North Carolina. For more information, visit SilverHareRacing.com.
 -SilverHareRacing-