Three-Time Winner Connor Zilisch Eager To Attack World Wide Technology Raceway
HIGH POINT, N.C. (Sept. 20, 2023) – Silver Hare Racing heads to the banks of the mighty Mississippi River for the second time this season as it joins its fellow Trans Am Series presented by Pirelli competitors for Saturday's SpeedTour Grand Prix Festival at World Wide Technology Raceway in Madison, Illinois, just across the river from downtown St. Louis in the shadows of the famed Gateway Arch.
Back in March, the series contested its second round of the season 700 miles downstream at NOLA Motorsports Park in Avondale, Louisiana, located just west of New Orleans.
Connor Zilisch, the 17-year-old driver of the No. 7 Silver Hare Racing Chevrolet Camaro and a three-time winner in the first 10 races of his sophomore season on the TA2 tour, leads this weekend's single-car Silver Hare contingent into Saturday's 63-lap, 75-minute race around the 1.6-mile, eight-turn road course that utilizes roughly two-thirds of the facility's 1.25-mile, egg-shaped oval that plays host to the NASCAR Cup Series and NTT IndyCar Series.
The event marks Trans Am's first in the St. Louis area since 1985, when Wally Dallenbach Jr., scored the victory on the same property competitors will race on this weekend at what then was called St. Louis International Raceway. That track was demolished after being sold in 1994 and the current oval facility and adjacent drag strip were opened in 1998.
Zilisch, who scored his first career TA2 win March 26 at Michelin Raceway Road Atlanta and followed with a pair of street-course triumphs from the back of the starting grid June 4 in downtown Detroit and Aug. 6 in downtown Nashville, Tennessee, relishes this weekend's latest chance to pay his first visit to a circuit at the same time as his fellow TA2 competitors. He's proven to be a quick study throughout his burgeoning career in multiple racing disciplines, including his TA2 debut in October 2021 at Virginia International Raceway in Alton, where he qualified on the pole in track-record time. During last year's second race weekend of the season on the Charlotte (N.C.) Motor Speedway Roval, Zilisch laid down the fastest laps in practice and qualifying in his first visit to his hometown track. When the series returned to the downtown streets of Detroit for the first time in 32 years in June, Zilisch and his Silver Hare Camaro were clearly the car and driver combination to beat. He qualified on the pole for both races of the weekend doubleheader and laid down the fastest race laps in each, then emerged with the victory in the Sunday race after starting from the rear due to a technical infraction. Only a midrace incident while dominating the early stages of the Saturday race ruined his chances for a weekend sweep.
The young driving prodigy from Mooresville, North Carolina, is certainly hoping to work that same kind of magic again this weekend as the TA2 Series hits the home stretch of the season.
A pair of test sessions kick off the weekend's on-track action at 8 and 10:15 a.m. CDT Friday, followed by a pair of official practice sessions at 1:30 and 4:30 p.m. Qualifying is set for 8:30 a.m. Saturday with the race, round 11 of 13 on the season, following at 1:10 p.m. Series partner MAVTV will provide live television coverage, augmented by live streaming video on the Trans Am and SpeedTour channels on YouTube. MAVTV will air a 60-minute race show at 8 p.m. EDT on Thursday, Sept. 28.
Silver Hare Racing leverages its Trans Am effort to promote its arrive-and-drive program, where aspiring racers and even tenured professionals hone their road-racing skills on some of the most revered tracks in North America. NASCAR Cup Series drivers Daniel Suárez, Christopher Bell, William Byron and Harrison Burton have all wheeled Silver Hare Racing-prepared cars to burnish their road-racing abilities in top-flight equipment.
The team offers six, professionally built and maintained TA2 chassis from Howe Racing for both competition and private testing. Silver Hare Racing has a dedicated, fulltime crew and operates out of a state-of-the-art facility in High Point, North Carolina. At the track, two 53-foot Featherlite transporters serve as the team's base, each outfitted with a lounge and smart TVs for data and video review, as well as for hospitality.
To further Silver Hare Racing's driver development capabilities, the team's race shop in High Point is now equipped with a SHOCKWAVE Simulator, a tool specifically developed for drivers to accelerate racetrack familiarity, improve car control and confidence, and build stamina. SHOCKWAVE has been involved in racing since 1965 and is currently actively participating in NASCAR, ARCA, Trans Am, Late Models, and Sprint cars. Its Trans Am package replicates a Howe Racing TA2 chassis, complete with cockpit controls and sounds.
"With NASCAR having so many more road-course races, it's our goal for Silver Hare Racing to be the preferred team for drivers to get that road-course experience," said Laura Hull, Silver Hare Racing co-owner and team manager. "We want to be that important step in the ladder for the young, up-and-coming drivers like Connor and Ben. We want people to know we have an arrive-and-drive program, where for people who want to run this track or another, we provide the opportunity to do that and be successful."
Connor Zilisch, driver, No. 7 Silver Hare Racing Chevrolet Camaro: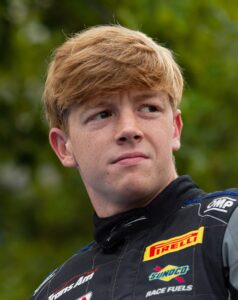 "Everything's going to be pretty new for everybody, I think, so I'm going in with an open mindset of just trying to learn as much as we can as quickly as we can about the track for myself as a driver. Gearing is going to be a question mark for a lot of the guys, and there are going to be a lot of variables added in. I'm excited, I always tend to do well at new places like this and I feel like I excel when nobody has experience on a track. I really feel like we're going to be super competitive, especially with the speed we've had lately. I'm just going to go out and continue doing my job every week like I have, and I'm looking forward to getting to a new place.
"It's on iRacing, so I've turned a few laps on iRacing to kind of get the hang of it, but obviously you can't replicate real life, so getting there in person is going to be the biggest thing for me, seeing the track and all it has to offer. There won't be as many cars as usual this weekend, so that's another variable. We're going to be racing with the bigger-class TA cars, which I don't think will be too big of a deal, but still something to think about.
"The track is pretty flat. Obviously, Gateway is known in NASCAR for being a flat track. It's definitely a shorter road circuit than we're used to, kind of a bullring type of track, like a Lime Rock sort of thing. Hopefully we'll be able to pass. That's the biggest thing that I'm thinking about, passing zones and trying to figure out ways to get around guys. I think the oval section is going to be cool to mix in some of that. I think we might be going fast enough around the oval section of the track that it might play a factor into making up some time. There are a lot of question marks, so it'll be all about getting there and figuring it out. And being the first one to figure it out is going to be super important as far as how successful you'll be.
"In a sense, it can be comparable to the Charlotte Roval. It's a roval in itself – obviously not the same, but comparable in a lot of ways. And we were fast in Charlotte last year, so if we can take that and all we've learned the past several months and apply that to Gateway, I think we'll be really fast this weekend."
-Silver Hare Racing-