Connor Zilisch Looks To Reprise Winning Performance from Downtown Detroit; Rookie Ben Maier Hopes 2022's Stadium Super Truck Success Translates to TA2
HIGH POINT, N.C. (Aug. 1, 2023) – In stark contrast to their youth, Silver Hare Racing's driver duo of Connor Zilisch and Ben Maier have shown followers of their burgeoning racing careers on multiple occasions they have street smarts that could rival that of seasoned veterans in the sport.
Their talents will be on high-profile display once again this weekend as they look to conquer the streets of downtown Nashville, Tennessee, during Saturday's round nine of the 2023 Big Machine Spiked Coolers Vodka TA2 Series that's part of Big Machine Music City Grand Prix festivities, headlined by the NTT IndyCar Series for the third year in a row.
Zilisch, the second-year fulltime TA2-class competitor who celebrated his 17th birthday July 22, left very little doubt he and his No. 7 Silver Hare Racing Chevrolet Camaro were the car-and-driver combination to beat when the series took to the streets of downtown Detroit June 3-4 for a Saturday-Sunday doubleheader alongside the IndyCar Series.
The Mooresville, North Carolina, native emerged from the Sunday race with his second TA2 victory after qualifying on the pole for both races and laying down the fastest lap in each. The win came in highly dramatic fashion as a prerace technical infraction sent Zilisch to the rear of the 24-car grid. Undaunted, he mounted a steady and determined march toward the front and, after taking the checkered flag half a car length behind the apparent race winner, was later awarded the victory when the winner was disqualified for avoidable contact during the race's final restart. Had it not been for his being unceremoniously run into a tire barrier after leading the first 11 laps of the Saturday race that ended his day, Zilisch and the team felt there was a legitimate possibility of leaving Detroit with a doubleheader sweep.
Meanwhile Maier, the 14-year-old TA2 rookie from Chester, Maryland, avoided the chaos in the Saturday race en route to a solid 10th-place finish, his second top-10 in his first five career TA2 starts. Sunday's race was shaping up to result in his first top-five before a cut tire sent him to the pits and dropped him from the lead lap. He rallied for a 17th-place finish.
This weekend on the 2.17-mile, 11-turn temporary street course that crosses the Cumberland River twice each lap via the Korean War Veterans Memorial Bridge, the Silver Hare duo looks to build on their respective experiences from last year's Music City Grand Prix weekend.
Zilisch, whose No. 7 Silver Hare Camaro paint scheme this weekend will feature Semora, North Carolina's Waukegan Farms Quarter Horses, as well as Nashville's Planet Cowboy handcrafted boot and Western apparel and accessories store, qualified fifth and felt solidly positioned to earn his first podium finish of his TA2 rookie season during the first third of the race. But a cut tire resulting from a slight brush with a concrete barrier left him stranded on the downtown side of the Cumberland River until race's end, leaving him without a chance to capitalize on a fast Silver Hare Camaro. He hopes for results more akin to this year's Detroit weekend, particularly with the proven street-course setup the team provided him in the Motor City.
While this weekend marks the first TA2 start at Nashville for Maier, driver of the No. 75 Gel Blaster/Waukegan Quarter Horses Chevrolet Camaro, he's no stranger to racing on its downtown street course. He took part in last year's Saturday-Sunday doubleheader there in the Stadium Super Trucks series, opening with a fifth-place finish on Saturday, then capping the weekend with a third-place run Sunday. He's expecting the familiarity with the unique circuit will yield positive results in his Silver Hare/Gel Blaster Camaro this weekend, during which he'll be pulling double duty by competing in the Stadium Super Trucks races once again.
A pair of TA2 practice sessions kick off the weekend's on-track action Friday, with qualifying set for 9:10 a.m. EDT Saturday, followed by the 46-lap, 75-minute TA2 race at 4:40 p.m. The series' newest television partner MAVTV will provide live television coverage, while the Trans Am and SpeedTour channels on YouTube provide live-streaming coverage. MAVTV will air a 60-minute race show at 8 p.m. EDT on Thursday, Aug. 10.
Before hitting the track this weekend, Zilisch, Maier and their respective Silver Hare Racing Camaros will take part in the Music City Grand Prix FanFest from 5 to 8 p.m. CDT Thursday. The free event takes place on Broadway between 1st and 4th Avenues.
Silver Hare Racing leverages its Trans Am effort to promote its arrive-and-drive program, where aspiring racers and even tenured professionals hone their road-racing skills on some of the most revered tracks in North America. NASCAR Cup Series drivers Daniel Suárez, Christopher Bell, William Byron and Harrison Burton have all wheeled Silver Hare Racing-prepared cars to burnish their road-racing abilities in top-flight equipment.
The team offers six, professionally built and maintained TA2 chassis from Howe Racing for both competition and private testing. Silver Hare Racing has a dedicated, fulltime crew and operates out of a state-of-the-art facility in High Point, North Carolina. At the track, two 53-foot Featherlite transporters serve as the team's base, each outfitted with a lounge and smart TVs for data and video review, as well as for hospitality.
To further Silver Hare Racing's driver development capabilities, the team's race shop in High Point is now equipped with a SHOCKWAVE Simulator, a tool specifically developed for drivers to accelerate racetrack familiarity, improve car control and confidence, and build stamina. SHOCKWAVE has been involved in racing since 1965 and is currently actively participating in NASCAR, ARCA, Trans Am, Late Models, and Sprint cars. Its Trans Am package replicates a Howe Racing TA2 chassis, complete with cockpit controls and sounds.
"With NASCAR having so many more road-course races, it's our goal for Silver Hare Racing to be the preferred team for drivers to get that road-course experience," said Laura Hull, Silver Hare Racing co-owner and team manager. "We want to be that important step in the ladder for the young, up-and-coming drivers like Connor and Ben. We want people to know we have an arrive-and-drive program, where for people who want to run this track or another, we provide the opportunity to do that and be successful."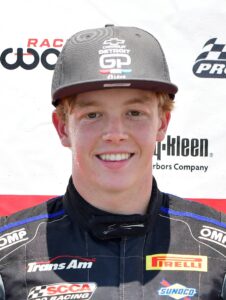 Connor Zilisch, driver, No. 7 Waukegan Farms Quarter Horses/ Planet Cowboy/Silver Hare Racing Chevrolet Camaro:
"We were really fast at Nashville last year, contending for what was going to be our first podium. I was running third and just a small mistake took us out of the race. So I feel like, especially after the speed we had at Detroit on that street course, if we bring a similar package to Nashville and unload fast and manage to make small adjustments, I feel like we'll be really good. We're going back to the car we ran at Detroit and I'm really confident in what we're going to bring. I feel like what we had at Detroit was incredibly fast and, if we can replicate that at Nashville on the bumpier street course, I'm feeling really positive about where we're going to be, especially with how fast we were at Nashville last year – that was kind of while we were going through some slumps and some hard times. So if we can show up to Nashville how we did last year and have that much speed, and really just build on what we've done this year, I think we'll be really competitive.
"It's obviously a cool place and a cool street course. It's in the middle of downtown Nashville, basically, and the atmosphere is probably the coolest I get to experience as a driver, so just excited to experience that again. I enjoy that track. It's tough to pass on, but I feel like it passes well enough that you can make some moves and get up through the field. I'm excited for it and I feel like we're going to have a really good piece, so I'm just looking forward to getting there and getting on track.
"Road America was tough. It's a racing deal, it's the last lap. We didn't qualify well, put ourselves a little bit further back than we should've been, but I feel like we really did a good job in the race working on our car and getting ourselves up toward the front. But just frustrating that something that little can end our day on the last lap. If it was something in our control or something we did wrong, then we'd have to look at it and work our way around the issue. But when it's something out of your control, all you can do is move on and just try and get it better for the next one and not really focus on what happened. It was a frustrating deal, but you've just got to move on from those things. I'm just looking forward to Nashville, really."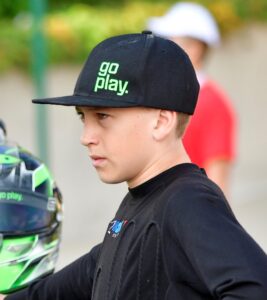 Ben Maier, driver, No. 75 Silver Hare Racing/Gel Blaster/Waukegan Farms Quarter Horses Chevrolet Camaro:
"It's going to feel like two different worlds for me this weekend between the TA2 race and the Stadium Super Trucks, for sure. Obviously I'll be focused on being competitive in the TA2 car because we've been working so hard all year and have been making good progress. The Stadium Super Trucks is just a fun thing. And the two drive so completely different, it's good that I only have one Stadium Super Trucks session before TA2 qualifying and the race, and both Stadium Super Trucks races are after that, so it won't be one of those double duty weekends where I'm having to constantly bounce back and forth between the two.
"I think Nashville is similar to Detroit with the tight sections and two pretty long straightaways. I think it should be a pretty cool racetrack to race on in the TA2 car for the first time. It'll help that I've already raced on the track. The most important part of the track will definitely be entering onto the straightaways – turn three that puts you onto the bridge, and then turn eight coming back over the bridge, and it'll be really important to get a good run. And then finding a way to get through that tight section downtown because it's going to be totally different gearing – you're going down the straightaway at 160 mph, and then get to the tight section and you're going 40 mph – that's going to be a challenge to figure out. Traffic-wise, I don't think it should be too much of an adjustment. We'll have about the same number of cars that we had at Detroit, so I should be fine from that aspect of it.
"It's going to be similar to Detroit as far as atmosphere with all the skyscrapers downtown. Nashville's definitely a cool racetrack to be racing on, and also going around the big stadium in the middle of everything. I like Nashville a lot."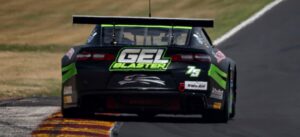 -Silver Hare Racing-