Connor Zilisch on a Roll After Pole, Race Win on Downtown Streets of Detroit; 14-Year-Old Rookie Ben Maier Looks To Continue Steady Climb in Driver Standings
HIGH POINT, N.C. (June 21, 2023) – After posting a pair of victories in the last four rounds of the 2023 Big Machine Vodka Spiked Coolers TA2 Series, 16-year-old Connor Zilisch can't wait to hit the track once again in his No. 7 Silver Hare Racing Chevrolet Camaro for this weekend's 3-Dimensional Services Group Classic at the Mid-Ohio Sports Car Course in Lexington.
Zilisch and his 14-year-old teammate Ben Maier will take to the legendary 2.258-mile, 13-turn road course nestled smack between Cleveland and Columbus for 45 laps or 70 minutes of competition – whichever comes first – set for a 12:40 p.m. EDT start Sunday.
His victory in the second of two races on the downtown streets of Detroit three weekends ago was a highly improbable one, to say the least. Zilisch and his Silver Hare Camaro clearly was the car-and-driver combination to beat the entire doubleheader weekend. He qualified on the pole for Saturday's opening race and led the first 11 laps before being unceremoniously run into a tire barrier on a restart, but not before clocking what turned out to be the fastest lap of the race to earn the pole position for Sunday's doubleheader weekend nightcap.
As fate would have it, Zilisch was sent to the back of Sunday's starting grid due to a technical infraction. Undeterred, he made a determined march to the front of the field and took the checkered flag in second place, half a car length behind apparent race winner Thomas Annunziata. But officials penalized Annunziata for contact deemed avoidable during the race's final restart and declared Zilisch the winner. It was the second win of the season for the native of Mooresville, North Carolina, the first coming three rounds prior at Michelin Raceway Road Atlanta on March 26.
Zilisch arrives at Mid-Ohio very much in the championship hunt through six of the season's 13 rounds. He's third in the driver standings behind fellow teenager Brent Crews and seasoned veteran Thomas Merrill. Sunday's race will be his first TA2 start at Mid-Ohio after having to forego last year's event due to a previous commitment. He did take part in last year's weekend doubleheader there during his Rookie of the Year season in the prestigious Idemitsu Mazda MX-5 Cup Series.
Maier, driver of the No. 75 Silver Hare Racing/Gel Blaster Camaro, has been nearly flawless in his first six outings on the Trans Am Series presented by Pirelli tour. He posted his second top-10 of the season in the Saturday race at Detroit, and appeared headed for a potential top-five run in the Sunday race had it not been for a cut tire, from which he rebounded for a 17th-place result.
The native of Chester, Maryland, competed at Mid-Ohio on back-to-back weekends last year and logged stellar results. He swept both races of a Spec Miata doubleheader the final weekend of June, then returned the following weekend for his first career start in the Stadium Super Trucks series as undercard to the headlining IndyCar Series and drove to a third-place finish.
A Friday-afternoon practice sessions kicks off the weekend for the TA2 competitors. Saturday begins with TA2 practice at qualifying at 11:05 a.m. EDT, followed by TA2 qualifying at 3:20 p.m. As are all Big Machine Vodka Spiked Coolers TA2 Series events this season, Sunday's 12:40 p.m. race will be live streamed via the Trans Am and SpeedTour channels on YouTube. The series' new television partner MAVTV will air a 60-minute version of the race weekend at 8 p.m. EDT on Thursday, June 29.
Silver Hare Racing leverages its Trans Am effort to promote its arrive-and-drive program, where aspiring racers and even tenured professionals hone their road-racing skills on some of the most revered tracks in North America. NASCAR Cup Series drivers Daniel Suárez, Christopher Bell, William Byron and Harrison Burton have all wheeled Silver Hare Racing-prepared cars to burnish their road-racing abilities in top-flight equipment.
The team offers six, professionally built and maintained TA2 chassis from Howe Racing for both competition and private testing. Silver Hare Racing has a dedicated, fulltime crew and operates out of a state-of-the-art facility in High Point, North Carolina. At the track, two 53-foot Featherlite transporters serve as the team's base, each outfitted with a lounge and smart TVs for data and video review, as well as for hospitality.
To further Silver Hare Racing's driver development capabilities, the team's race shop in High Point is now equipped with a SHOCKWAVE Simulator, a tool specifically developed for drivers to accelerate racetrack familiarity, improve car control and confidence, and build stamina. SHOCKWAVE has been involved in racing since 1965 and is currently actively participating in NASCAR, ARCA, Trans Am, Late Models, and Sprint cars. Its Trans Am package replicates a Howe Racing TA2 chassis, complete with cockpit controls and sounds.
"With NASCAR having so many more road-course races, it's our goal for Silver Hare Racing to be the preferred team for drivers to get that road-course experience," said Laura Hull, Silver Hare Racing co-owner and team manager. "We want to be that important step in the ladder for the young, up-and-coming drivers like Connor and Ben. We want people to know we have an arrive-and-drive program, where for people who want to run this track or another, we provide the opportunity to do that and be successful."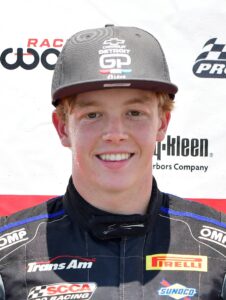 Connor Zilisch, driver, No. 7 Silver Hare Racing Chevrolet Camaro:
"I really like Mid-Ohio. The elevation changes make it really cool and I think it races really well. I'm excited to get there in a TA2 car. I think it's going to be a lot of fun with a TA2 car with all the power. I've only driven it in the MX-5 Cup, so it'll be a new experience for me, but we have plenty of time to figure it out and get acclimated to the track and hopefully get the car dialed in.
"We weren't there last year, so we might be a little bit behind on setup, or even me, I might be a little bit behind as a driver. Thankfully we have some good amount of practice time to get it all sorted out and get off on the right foot. I think Mid-Ohio will be a really cool track in these cars.
"It's a driver's racetrack, for sure. Lots of elevation, like I said. High corner speed, you've got to get over the hills well and get good runs off the corners, there are some crests over some exits and things that make it a little bit tricky. It's definitely one of the harder tracks we'll go to from a driving standpoint, which I think will suit us well because I feel like I'll be able to make up time driving while at some other tracks you might not be able to. I think it'll be a good track for us and I hope we can get some good speed. Hopefully we'll be quick and qualify up front, that's the main thing – we've got to keep qualifying well if we want to finish well and have good races.
"Hopefully we can back up our pole and our win at Detroit with another pole and a win at Mid-Ohio and keep ourselves in the championship fight. Looking forward to the rest of the season and finishing out strong and having good finishes and working toward the championship.
"Mid-Ohio is narrow and the straightaways might not be as long as at some other tracks, but I feel like there are still good braking zones for passing. It might be tough in a few spots, but the Keyhole, down the back straightaway, there are good spots to get around people. It'll really be just about making the most of what you've got, and qualifying is definitely going to be important. You've got to qualify well and, if you qualify well and race up front, you'll be good. We've just got to focus on our speed in practice and make sure we're in a good place with the car and the setup and hopefully we'll be able to keep it up front and get ourselves another good finish."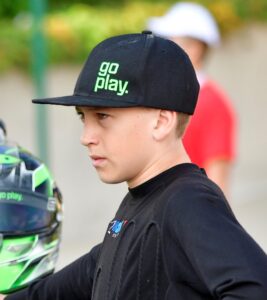 Ben Maier, driver, No. 75 Silver Hare Racing/Gel Blaster Chevrolet Camaro:
"I really like the track at Mid-Ohio. There's a little bit of elevation change, and the esses after the straightaways, there are hairpins that are really cool. I like that. It's a really cool track and I just like the variety, there are a lot of different kinds of corners. It's over 2 miles long, but it feels more like a shorter track.
"The Keyhole (turn two), you really want to get a good run out of there because of the straightaways that come after it. Coming onto the frontstretch, it's important to get a good run off the last turn. Setting up for the straightaways and getting good runs will be important, and also carrying speed through the turns.
"After racing at Detroit with walls all around the track, it's going to be a relief to not feel stressed about trying not to hit the walls. Mid-Ohio will be a lot more forgiving.
"Now that we're about to pass the halfway point in the season, I just need to work on little points and refining them, and pick up some speed and hopefully be running with the guys in the front, eventually."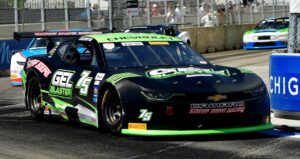 -Silver Hare Racing-