Rising Star Connor Zilisch Set for Round 2 of Trans Am TA2 on the Roval
HIGH POINT, N.C. (March 15, 2022) – When last we saw the Trans Am Series presented by Pirelli take to the Charlotte (N.C.) Motor Speedway Roval a year ago this month, the Silver Hare Racing stable featured a pair of high-profile competitors behind the wheel of its TA2-class Chevrolet Camaros in Brandon Jones and Harrison Burton.
The young driver duo – Jones 24 and Burton 20 at the time – were Joe Gibbs Racing teammates in the NASCAR Xfinity Series who went out of their way that weekend to pull double duty with the chance to test and race on the 2.28-mile, 17-turn road course in competitive equipment, all with an eye on the Xfinity Series playoff race on the Roval in October.
Sandwiched between Friday testing and Sunday's non-points Trans Am ProAm Challenge event at Charlotte was Saturday's Xfinity Series race five hours south at Atlanta Motor Speedway, and the track time on the Roval for Jones and Burton proved to be a worthwhile investment. When they returned to Charlotte for the fall Xfinity Series race, Jones left with a solid top-five finish while Burton came home 15th.
For this weekend's Charlotte SpeedTour event, Silver Hare Racing is all in at the Roval once again, this time behind a single-car entry for 15-year-old rising star Connor Zilisch as the Charlotte road course becomes part of the Trans Am season-long championship for the first time since 2000.
Zilisch, who opened the season three weekends ago at Sebring (Fla.) International Raceway behind the wheel of the No. 5 Silver Hare Racing/KHI Management Chevrolet Camaro, will switch to the team's No. 57 Camaro for Saturday's 75-minute race while its regular driver, team owner Maurice Hull, is on the mend. Hull's coolsuit system was damaged during the Sebring round and, by race's end, left him with burns to his upper torso. Hull plans to return to the cockpit for next week's race at Michelin Raceway Road Atlanta in Braselton, Georgia.
A field of 33 TA2 entries will take the green flag for Saturday's 12:40 p.m. EDT race, and a vast majority of those drivers will be racing around the tight, tricky Roval layout for the first time ever, including Zilisch. Last year's multiclass ProAm Challenge drew just a small handful of TA2 teams as it was a first-time event that was not part of the championship. It's a situation that bodes well for Zilisch, a 10th-grader from nearby Mooresville, North Carolina, who has proven to be an unusually quick study during his rise through the racing ranks. In his TA2 debut last fall at Virginia International Raceway (VIR) in Alton, he became the youngest pole-winner in series history with a track-record lap of 1:48.905.
Last month's 2022 season opener at Sebring was just the second TA2 outing for Zilisch, and it was a double-duty weekend, as well. Set to drive all but the Mid-Ohio round in "America's Road Racing Series" for Silver Hare Racing this season, he's augmenting his time in Trans Am with a full season of Idemitsu Mazda MX-5 Cup, the signature spec series for Mazda Motorsports. He was the top winner of the series' scholarship, earning $110,000 to take part in the 2022 Mazda MX-5 Cup where he will contend for the $80,000 rookie-of-the-year award and the $250,000 championship prize. Zilisch began the Sebring SpeedTour weekend racing Rounds 3 and 4 of the MX-5 Cup on the Streets of St. Petersburg as an undercard to the IndyCar Series season opener. After losing his brakes while running with the leaders on the final lap of Friday's Round 3, Zilisch charged from 22nd to finish second in Saturday morning's Round 4. He then made the two-hour trek to Sebring in time for late-Saturday qualifying, where a Silver Hare Racing Chevrolet Camaro was prepped and ready for him.
Silver Hare Racing leverages its Trans Am effort to promote its arrive-and-drive program, where aspiring racers and even tenured professionals hone their road-racing skills on some of the most revered tracks in North America. NASCAR Cup Series drivers Burton, Daniel Suárez, William Byron and Christopher Bell have all wheeled Silver Hare Racing-prepared cars to burnish their road-racing abilities. In addition to top-flight equipment, Silver Hare Racing provides professional driver coaching by general manager Michael Self, an ARCA and Xfinity Series veteran.
The team offers six, professionally built and maintained TA2 chassis from Howe Racing for both competition and private testing. Silver Hare Racing has a dedicated, fulltime crew and operates out of a state-of-the-art facility in High Point, North Carolina. At the track, two 53-foot Featherlite transporters serve as the team's base, each outfitted with a lounge and smart TVs for data and video review, as well as for hospitality.
"With NASCAR having so many more road-course races, it's our goal for Silver Hare Racing to be the preferred team for drivers to get that road-course experience," said Laura Hull, team manager, Silver Hare Racing. "We want to be that important step in the ladder for the young, up-and-coming drivers like Connor, which we're doing in collaboration with Kevin Harvick Incorporated.
"It started when they brought him to us for testing at VIR a year ago, and now we're delighted to have him under contract. That's how we're trying to position this. We want people to know we have an arrive-and-drive program, where people who want to run this track or another, we provide the opportunity for them to do that and be successful."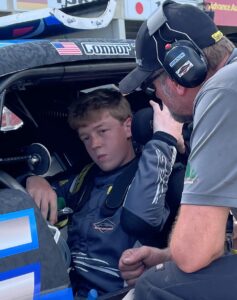 CONNOR ZILISCH, DRIVER NO. 57 SILVER HARE RACING/KHI MANAGEMENT CHEVROLET CAMARO:
"It was a ton of fun going back and forth between the two races on Sebring weekend. I really enjoyed my time at both. I thought we did the best we could at Sebring. We had some bad luck with the car. That didn't really help us, but I feel we've made some good strides at what we need to work on and I really feel that we have a good car going to the Roval. This weekend at the Roval, I'm going to be able to focus all my attention on this race, so we'll be able to get it all sorted out in practice and, hopefully, we'll have a good car by the end of the weekend.
"I've driven the Roval a lot on the sim, so I know what it looks like, but I'll be going in pretty blind as far as driving it in-person. I've experienced a lot of new tracks, so I think I'll be able to pick it up pretty quickly. It's going to be a cool experience, my first time on that Roval – I've been to the Daytona Roval (in MX-5 Cup), obviously, but nothing exactly like Charlotte before. It's definitely going to be interesting and I'm looking forward to it, especially since NASCAR goes there. It's going to be cool to experience that.
"It's a very difficult track. There are switchbacks, two chicanes – those are interesting considering how fast we're going to be coming off the banking. There's not a lot of time to breathe throughout the lap, but that makes for good racing and it makes for a fun track to drive as there are a lot of corners and a lot of time to be made up. I think it'll suit my driving style. There are a lot of big braking zones. I've always been good at braking, whether it's in a go-kart or the Miatas, and I think that'll transfer into this pretty well, too. I'm looking forward to getting out there and seeing what the track looks like.
"It can get tight, that's for sure, especially turn one when you're in-between two concrete walls. If something gets clogged up on the first lap, that would not be fun. So you've got to be able to qualify up front. There are a lot of corners, but passing might be a little bit difficult because there aren't going to be long runs to go draft and get by someone. Qualifying will be very important."
MAURICE HULL, TEAM OWNER/DRIVER, SILVER HARE RACING:
"I'm still not completely recovered after what happened at Sebring. I probably could get all bandaged up and get in there and do it at Charlotte, but I think this weekend I'm going to concentrate on Connor. That's where our heads are at. We'll be back the following weekend at Road Atlanta.
"What happened at Sebring turned out to be the result of my car getting hit on the right side, right where the exhaust pipe comes out, during qualifying on Saturday. So in the second lap of the race on Sunday, the pitch of the engine changed and I was suddenly down on power, and that was because the exhaust pipe apparently separated and came to rest against a piece of lead weight on the frame rail under my seat. The exhaust was getting blocked and the heat was so bad it melted the lead weight. And that happens to also be why my coolsuit system failed. It apparently also melted and then started circulating hot liquid. So our issues were apparently not electrical at all, which we originally suspected, but the result of that impact during qualifying on Saturday.
"Connor was a delight to work with at Sebring. He's very professional and he was quick as soon as he got in the car. We both had issues qualifying because we were in the second qualifying group, and we only got a couple of laps because there were wrecks, and then they red-flagged our session. It was difficult already because there was a lot of traffic, and it was difficult for everybody, not just us. In the race, Connor did a great job working his way all the way up to seventh before his car started having electrical gremlins and he was down on power from that point. It was unfortunate, but we showed speed and we showed the cars handle very well, good setups. If we hadn't had those gremlins, we would have finished a whole lot better.
"For the last few years, every time we've ever had problems like that, we've done a good job of simplifying things to make sure it doesn't happen again. These are finicky cars and we've done a lot of work since we got back from Sebring and we feel like we have this issue under control as we head to Charlotte.
"This weekend, we're among a lot of people who have never raced on the Roval. It's a challenging track in that there are a lot of walls and it's kind of an unforgiving turn one – a 90-degree turn one after you come barreling down the straightaway. Last year's race was the first Trans Am race on that exact track and there were very few cars because it was a ProAm race. This year, we'll have 36 cars, most of which have never raced on this very track. That's a lot for a track like that where there are not a lot of places to pass. It's not such a wide track, and the TA2 cars are so evenly balanced. It'll be intriguing to see how all of that plays out. We'll concentrate on Connor with a full staff that will normally be running two cars. He's a great driver. He's got immense talent. Hopefully, he can adapt to this track and stay clean. If you can stay clean in this race, not take any unnecessary risks, you're going to get rewarded on the Roval more than you would at a whole lot of other tracks."
-Silver Hare Racing-
About Silver Hare Racing:
Silver Hare Racing is a fulltime competitor in the TA2 division of the Trans Am Series presented by Pirelli. The multicar team has won the TA2 Masters class championship three times (2018, 2019 and 2020) with driver and team co-owner Maurice Hull. Under the leadership of Hull's wife, co-owner and team manager Laura Hull, and general manager Michael Self, Silver Hare Racing provides a variety of services that includes private testing and arrive-and-drive programs. The team offers six, professionally built and maintained TA2 chassis from Howe Racing and operates from a state-of-the-art facility in High Point, North Carolina. For more information, please visit SilverHareRacing.com.