Late Pass Gives Connor Zilisch First Career Trans Am TA2 Win; Rookie Ben Maier Rebounds from Early Pit Stop To Finish 19th
Overview
Date: March 26, 2023
Event: Bennett/BridgeHaul 100 (Round 3 of 12)
Series: Trans Am Series presented by Pirelli
Division: Big Machine Vodka Spiked Coolers TA2 Series
Location: Road Atlanta in Braselton, Georgia
Layout: 2.54-mile, 12-turn road course
Format: 40 laps or 75 minutes
Weather: Cloudy, late rain shower, low 60s
Race Winner: Connor Zilisch of Silver Hare Racing
Silver Hare Racing:
Connor Zilisch – Started 8th, Finished 1st (Running, completed 34/34 laps)
Ben Maier – Started 20th, Finished 19th (Running, completed 34/34 laps)
Noteworthy:
Sunday's victory was the second ever in Trans Am TA2 competition for Silver Hare Racing. The first occurred Nov. 8, 2020, at Circuit of the Americas in Austin, Texas, with driver Rafa Matos.
In addition to Sunday's race win, Silver Hare's Connor Zilisch earned a pair of contingency awards: the COOLSHIRT Cool Move of the Race for his late pass of leader Thomas Merrill for the win, and the Omagato Watch Fastest Lap of the Race for his lap of 1:24.634 on the 32nd of 34 laps contested today.
Connor Zilisch, Driver, No. 7 Silver Hare Racing Chevrolet Camaro: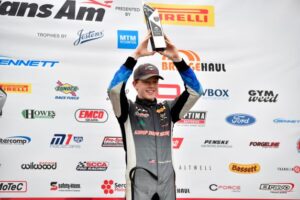 "What an awesome race. We've been working at this for over a year, now, trying to get our first win, and finally being able to do that is really special. All these guys work their tails off and they care about me, and I'm so thankful for them and everything that they've done for me. Maurice and Laura (Hull), they've taken a chance on me and given me the opportunity to come out here and prove my talent, and we've been working hard and finally got our car to the point where we're really competitive. In the first three races, we've been really fast, and to finally put it all together and get on top of the podium, it's really special to me and for all the guys, as well. Just thankful and ready for the rest of the season. We've got ourselves in a good spot here in the championship, just going to keep working hard and getting better. There on that last restart, I knew we didn't have a lot of time to make a move (on leader Thomas Merrill). I was going to have to do something pretty quick and find a way by him. I knew he had a lot more straight-line speed than me, but every time we'd go into (turn) 10A,  I'd always be able to outbrake him. I knew if I could get within a few car lengths, I could get down inside of him and get by him. I did that on that lap and ended up getting by him. Just a wild race – the weather, started further back, had to pass guys, miss corners, rain every now and then. I was honestly a little worried when that big rain shower came at the end because I knew I still had to drive that last lap, and with how competitive these guys are, they're going to take chances to try and get to my back bumper and I knew I wasn't going to take a chance to go off the track while I was leading on the last lap. We kept it in one piece after I got by Merrill and came across the line first and got ourselves our first win, finally."
Ben Maier, Driver, No. 75 Gel Blaster/Silver Hare Racing Chevrolet Camaro: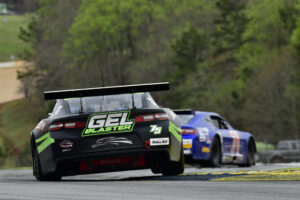 "We went out on rain tires, so we had to pit early for slicks, which wasn't the most ideal thing. It obviously would've been better to stay out there and keep racing. But the track started to dry out pretty early, and then at the end of the race it started pouring. I just tried to stay alive at the beginning, especially since it was half wet and half dry. In the chicanes, it was wet all through there, and the rest of the track it was dry, which made it pretty gnarly. Learned the track pretty well, which is a good thing. It's just unfortunate that we had to pit like so many other people had to for slicks in the early part of the race there. Otherwise, it was a good learning experience."
Maurice Hull, Co-Owner, Silver Hare Racing:
"We finally did it. We've been knocking on the door for a long time and have had to overcome a whole ton of obstacles to get here. I'm just so proud of the hard work that this team has put in. It's truly a team effort to pull off anything like this, and it's just amazing. I'm really excited. We have great talent behind the wheel, and really great talent in the crew. Best group of guys that I've ever worked with, just extraordinary, never quit, made adjustments the whole time to get speed out of the car by changing the way the car drove. It's just wonderful, and Laura and I are truly excited and pleased. Connor finally got rewarded for all the hard work he's put in during the last year. Ben had never driven in the rain, he'd never made a pit stop, and it's the first time he'd ever been to Road Atlanta, so it was a miraculous job for him. He really did a great job, brought it home clean and ran some fast laps, passed some very able drivers. I'm very proud of him. I'm very proud of this whole operation."
Next Up
Round four of the 2023 Big Machine Vodka Spiked Coolers TA2 Series takes Silver Hare Racing and its fellow competitors next take to the track May 26 and 27 at Lime Rock Park in Lakeville, Connecticut, for the Trans Am Memorial Day Classic. The event on the 1.478-mile, seven-turn road course begins with an open test session the morning of Friday, May 26, followed by practice and qualifying that afternoon. The 68-lap, 75-minute feature race will run Saturday, May 27, at 1:20 p.m. EDT. Coverage will be live streamed via the Trans Am Series and SpeedTourTV channels on YouTube, with a delayed broadcast on MAVTV set for 8 p.m. EDT on Thursday, June 1.
-SilverHareRacing-