Expanding on the success of the 2020 season, The Silver Hare family continues to grow with the addition of two championship winning drivers for the 2021 season. Fresh off his TA2 win at VIR just a few months ago, Tyler Kicera will pilot the #5 Silver Hare Racing Ford Mustang full time in the Trans Am Series presented by Pirelli TA2 Championship; while NASCAR Race Winner Michael Self joins the team in a new role as General Manager.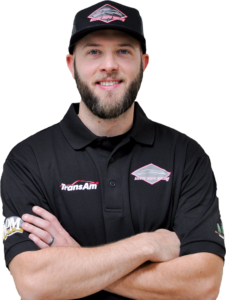 TYLER KICERA – Ready for 2021 Championship Fight
"First of all, I have to thank Maurice and Laura Hull for the incredible opportunity to join Silver Hare Racing for the full 2021 TA2 season. I've been working hard on and off track for a long time to secure a full season drive.  I can't even begin to describe my level of excitement now that it's finally come to fruition.  Along with crew chief Jeff Holley, they run a first-class organization and it's a privilege to drive for them and represent Silver Hare Racing. The start of the season can't come soon enough, I have no doubt we will be a dominant force in TA2."
Not only a race winner in TA2, Tyler amassed 5 wins in the inaugural Trans Am by Pirelli Esports Championship – en route to second place in the final standings.  Throughout his career Tyler has always found a way to win.  Starting out at age 6, the wins began in quarter midgets and continued in Spec Racer Ford and Spec Miata.  Winning back to back SCCA National Points Champion titles, a NASA Championship, and climbing the podium in his first ever Global MX5 Cup race; Tyler capped off his road to Trans Am as a Mazda Road to 24 finalist.
Owners Maurice and Laura Hull noticed the talent in Tyler over the past few seasons and are excited to see the up-and-coming driver run at the front in the #5 Silver Hare Racing Mustang.
"Tyler is a great young driver and will be a valuable addition to the team, he will prove to be a great teammate alongside all the Silver Hare cars. On and off track, both Michael and Tyler already fit right in."
Also joining the Silver Hare family, Michael Self takes over in a new position as General Manager.   Self brings years of knowledge and experience in multiple forms of motorsports.  Having success on track at every level, from Skip Barber to NASCAR, there is no doubt Self will be an integral part of the future growth of Silver Hare Racing.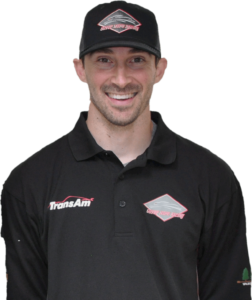 Michael Self – General Manager Silver Hare Racing
"I'm really excited and thankful to have the opportunity to work in a management position at Silver Hare. I've been fortunate to have success in managing the Sinclair Oil sponsorship in ARCA the last couple of years, and I'm eager to continue applying that experience in the business side of racing; while continuing to learn from Maurice and Laura who have ultra-successful careers in business administration. I think they're going about things the right way with Silver Hare, developing a TA2 team that will be competitive not only on the track, but off the track with drivers and business partners in a market that will hopefully continue to grow as road racing becomes more prominent in NASCAR and the United States."
Not simply racing, the Silver Hare family is busy with countless number of private test days – assisting drivers of all levels in gaining valuable road course experience.  With two test cars always ready to hit the track, you never know when and where the familiar black haulers will unload next.
"I am definitely looking forward to the upcoming season, expanding our race program gives us an opportunity to truly capitalize on the success in 2020.  Tyler is a great driver and I can't wait to see him behind the wheel of the number 5 Silver Hare Mustang.  We have a great group of guys, and both Tyler and Michael fit right in, Sebring is going to be fun."  –  Crew Chief Jeff Holley
With anxious race cars ready to hit the track, stay tuned for exciting news from Silver Hare.
Next up for the Silver Hare Family Sebring International Raceway – February 19-21
Silver Hare Racing operates a 50,000 sq foot former
NASCAR cup racing shop in High Point, NC.
For more information about Silver Hare Racing please follow across Social Media – @SilverHareRacing