Connor Zilisch Looks To End Season with Third Win in a Row, Sixth of 2023
HIGH POINT, N.C. (Nov. 1, 2023) – Connor Zilisch and the No. 7 Chevrolet Camaro team for Silver Hare Racing look to put an exclamation point on the 2023 campaign when they join their Big Machine Vodka Spiked Coolers TA2 Series counterparts for Sunday's season-ending Mission Foods Austin SpeedTour at the Circuit of the Americas (COTA) in Austin, Texas.
The 17-year-old from Mooresville, North Carolina, and his Silver Hare teammates will hit the 3.426-mile, 20-turn circuit on the outskirts of the Texas state capital chasing their third victory in a row, their fourth in the last five races, and their sixth in 13 stops on the 2023 tour.
To say they've been the driver and team to beat over the latter half of the season just might be an understatement. Zilisch has led the last 112 consecutive TA2 laps contested, dating back to lap eight of the 28-lap race Sept. 10 at Watkins Glen (N.Y.) International where, after taking the checkered flag in first place, Zilisch was not awarded the victory after a postrace inspection infraction. Undaunted, he and the team went on to dominate the next two events – Sept. 23 at World Wide Technology Raceway outside St. Louis, and Oct. 8 at High Point, North Carolina-based Silver Hare Racing's home track, Virginia International Raceway (VIR) in Alton – by qualifying on the pole and leading every race lap.
Young Zilisch ended up making Trans Am Series presented by Pirelli history at VIR, where he pulled double duty by also competing in the top-tier TA class for the first time in his career. Driving the No. 7 Franklin Road Apparel/Silver Hare Racing Chevrolet Camaro for Ken Thwaits' Showtime Motorsports, Zilisch qualified that car on the pole, led all 30 race laps, and won by a 46-second margin to become the youngest TA-class winner in Trans Am history, as well as the first driver ever to win the TA and TA2 races on the same weekend.
For good measure, the following weekend Zilisch competed in both ends of the Mazda MX-5 Cup season-ending doubleheader at Michelin Raceway Road Atlanta and scored the win in both races.
With a boatload of momentum, Zilsch and Silver Hare Racing return to the scene of their breakthrough run a year ago this weekend, one that set the stage for their multiple dominating performances this season. Zilisch earned his season-best qualifying effort of third to kick off last year's COTA weekend, then scored his first career TA2 podium finish of second on race day, dogging race-winner and 2022 champion Thomas Merrill all the way to the checkered flag.
Buoyed by that performance, Zilisch and the team hit the ground running in 2023, the young driver executing a late-race pass of race-leader Merrill in the season's third race at Road Atlanta for his first career TA2 victory. Unlike the most recent wire-to-wire triumphs, race wins Nos. 2 and 3 this season came in hugely dramatic fashion for Zilisch, both coming from last on the starting grid due to prerace technical infractions – the first June 4 on the downtown Detroit street circuit, the second Aug. 5 in downtown Nashville, Tennessee.
Sunday's 30-lap, 75-minute TA2 season finale, set for a 10 a.m. CST start, will be televised live on MAVTV, augmented by live streaming video on the Trans Am and SpeedTour channels on YouTube.
Silver Hare Racing leverages its Trans Am effort to promote its arrive-and-drive program, where aspiring racers and even tenured professionals hone their road-racing skills on some of the most revered tracks in North America. NASCAR Cup Series drivers Daniel Suárez, Christopher Bell, William Byron and Harrison Burton have all wheeled Silver Hare Racing-prepared cars to burnish their road-racing abilities in top-flight equipment.
The team offers six, professionally built and maintained TA2 chassis from Howe Racing for both competition and private testing. Silver Hare Racing has a dedicated, fulltime crew and operates out of a state-of-the-art facility in High Point, North Carolina. At the track, two 53-foot Featherlite transporters serve as the team's base, each outfitted with a lounge and smart TVs for data and video review, as well as for hospitality.
To further Silver Hare Racing's driver development capabilities, the team's race shop in High Point is now equipped with a SHOCKWAVE Simulator, a tool specifically developed for drivers to accelerate racetrack familiarity, improve car control and confidence, and build stamina. SHOCKWAVE has been involved in racing since 1965 and is currently actively participating in NASCAR, ARCA, Trans Am, Late Models, and Sprint cars. Its Trans Am package replicates a Howe Racing TA2 chassis, complete with cockpit controls and sounds.
"With NASCAR having so many more road-course races, it's our goal for Silver Hare Racing to be the preferred team for drivers to get that road-course experience," said Laura Hull, Silver Hare Racing co-owner and team manager. "We want to be that important step in the ladder for the young, up-and-coming drivers like Connor. We want people to know we have an arrive-and-drive program, where for people who want to run this track or another, we provide the opportunity to do that and be successful."
Connor Zilisch, driver, No. 7 Silver Hare Racing Chevrolet Camaro: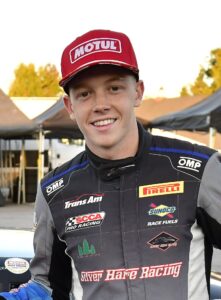 "I feel really confident going to COTA. Obviously, last year we had a really good showing – we about won the race and it ended up being my first podium, almost my first win. Since then, we've learned a lot as a team and I've learned a lot as a driver, so I think we'll go back this year and be a completely different group of people than we were last year. And if we take what we've learned the last six or seven races, I think we'll be really successful.
"We've had a really good last several races, things have really started to click, so to get a chance to go to COTA, where we had our breakthrough weekend last year and go for our almost fifth win in a row if you discount the DQ at Watkins Glen, that would be really cool and it would mean a lot to the whole team. To me, as well, to end my second fulltime season in TA2 racing with all my guys, they've worked really hard for me this year. It's really showed the last half of the season.
"I really like COTA. It's one of my favorite tracks, the elevation changes, high-risk, high-reward, and big braking zones, the esses are really cool, the hill up to turn one is very unique and there's no other track like it. Hopefully we can have a good showing and we can finish out the season strong.
"Last year, I was just coming off of VIR, where I wrecked out kind of early in the race. That was the turning point for me where I realized I needed to change what I was doing and try doing something else. So I went to COTA and stayed at 98 percent for the entire weekend and, lo and behold, I was battling for the win on the last lap. That's where I realized what I needed to do and how my mindset needed to change. That was a turning point for me and a realization of what it really takes to win and be successful and race for a championship. I just wanted to go do that and give myself some confidence going into the offseason, which it did, and I was proud to get that podium result for the team last year. And just learning as a driver was the biggest thing."
-Silver Hare Racing-